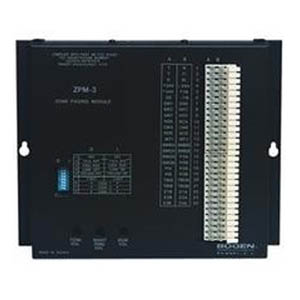 Bogen ZPM-3 3 Zone Paging Module
Bogen ZPM-3 3 Zone Paging Module BG-ZPM-3
Bogen telephone-compatible zone paging module with all-call and talk back capabilities serving up to three one- or two-way paging zones.
Can also be used in a paging system independent of a telephone system.
Works with self-amplified or central-amplified paging systems.
A background music source can be connected directly to the ZPM3, or to a separate amplifier that can be used to supply background music to all unpaged zones.
Built-in DIP switches are used to select the field-programming mode, enable/disable the pre-announce and confirmation tones, and set the paging mode (one-way or talk back) of each zone.
Field-programming is used to assign individual zones to the paging zone groups, night ringer zone group, and shift change/emergency-call zone group; field-programming is also used to enable/disable the privacy beep for two-way zones, select the shift change/emergency-call tone, and inhibit all-call operation.
A control is included to adjust the volume of the preannounce, confirmation, and shift change/emergency-call tones; separate controls are provided to adjust the night ringer tone and background music volume. All volume controls are screwdriver-adjustable.- 3 Zone paging plus All-Call.
3 Field-programmable paging zone groups (1-3 zones in each).
One-way and two-way paging (talk back operation requires TBA15 Talk Back amplifier).
Direct connection to page ports (requires contact closures), loop-start and ground start trunks.
Connection to an analog station line (station port) possible when used with a suitable telephone access module, i.e., Bogen model TAMB.
100W total power handling capacity.
Background music input.
DIP switches select zone type (one way or talk back), talk battery (24V/48V), and tone options.
Built-in night ringer in all zones or groups of three user-selected zones.
Shift change or emergency-call (with alert tone) in all zones or groups of three user-selected zones.
Programmable All-Call inhibits and privacy beep for talkback zones.
Built-in punch block (type 66) speeds installation.
Separate volume controls for tones, night ring, and background music.
Works with self-amplified or central amplifier paging systems.
Optional battery backup.
24V power supply required Bogen model PRSLSI power supply recommended.
Terminals provided for connection to an additional 48V power supply when 48V talk battery operation required (Bogen model PRS48 power supply recommended).
Includes flanges with keyhole slots for wall-mounting.
Ringer equivalence: 1.2B.
Operating current (max.): 350 mA.
Audio power capability: 100W (70V AC or 25V AC).
DTMF tones: signal level: 25 dBm; twist limit - 10 dB; tone duration (min.) - 40 ms; interdigit pause - 40 ms.
Zone selection: dial pulse speed: 8 to 20 ppm; percent break - 52% to 64%.
Environmental: Operating temperature - 0° to 125°F.
Product dimensions (overall): 9" W x 7-1/4" H x 1-3/8" D (includes wall-mounting flange).
BGZPM3.