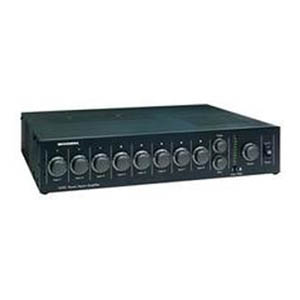 Bogen V100 Bogen 100w Power Vector Modular Amp
Bogen V100 Bogen 100w Power Vector Modular Amp BG-V100
5 models ranging from 35W to 250W each; a mixer-only version (VMIX) is also available.
Capable of handling 70V, 25V, 8-ohm, and 4-ohm speaker loads.
8 module bays.
A wide selection of advanced plug-in modules (modules sold separately).
4 levels of priority between modules.
2 module bays capable of handling plug-in signal-processing output modules.
11-segment LED output level meter monitors the output level of the power amplifier with Peak and Average meter switch.
Motorized master volume control can be remotely operated.
A lockable switch permits the user to select either transformer-coupled outputs or a direct low impedance output.
5-position barrier strip, with clamping washers, provides connections for speaker loads.
Bridging In/Out connector.
External access to priority mute buses.
Bridging jack and Mute terminals join multiple Power Vector amps and mixers together.
Independent volume control for each of the eight module bays.
Two-color LED for each channel indicates input signal or clipping.
Bass and treble control with bypass switch (located in module bay 6).
125 Hz Low Cut switch (located in module bay 6).
Signal-processing insert jacks allow external equipment to be inserted between the pre-amp output and the power amp input.
Pre-EQ, unbalanced, buffered output signal (?post? all unit controls, but ?pre? any external ?Insert? equipment connected).
Grounded, unswitched AC convenience receptacle with a 500W maximum capacity provided for external equipment.
8 module security cover/filler plates included with amplifier (PVMC).
Push-button remote volume control panel (Model RVCP, sold separately).
Security cover to selectively protect volume, bass, and treble controls (Model PVSC, sold separately).
Rack mountable (with rack mounting kit RPK87, sold separately).
2 rack spaces high (3-1/2").
Listed to UL Standard 60065 for U.S. and Canada.
BGV100.